Industrial and Commercial Security Systems, Inc. provides comprehensive Santa Fe security solutions designed to help you neutralize potential threats, both external and internal. A local New Mexico company for over 30 years, we can design and implement a state-of-the-art Santa Fe security system to help you achieve your surveillance goals.
Call 505-998-2246 today for a custom security solution for your Santa Fe, NM business
or click here to email us!
How Security Cameras Make a Difference for Your SF, NM Business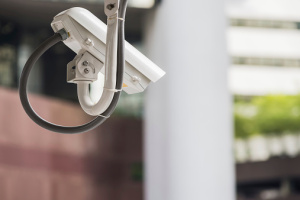 Security cameras have numerous benefits for commercial businesses, including:
Monitoring of employee activity
Identifying the average flow of people at your business
Evidence, if an intrusion occurs
Remote surveillance
Industrial and Commercial Security Systems, Inc. has the professional resources to outfit any size or type of business with an effective security camera system. We design, install, and maintain all makes and models.
ICSS, Inc. serves New Mexico, Southern Colorado, and Eastern Arizona.
Call today for a consultation! 505-998-2246
Santa Fe Wireless Security Cameras
Industrial and Commercial Security Systems, Inc. uses the latest technology to help you obtain crystal clear images of your facility. Our cameras use IP megapixel technology and have a full range of capabilities, including:
Digital zoom
360 degree views
Dewarping
Live and playback images
Clear images in low light and no light
Security integration
Live, dependable feeds can be accessed via smartphone, tablet, or on any computer that has access to the internet. Our video analytics team can also perform data recovery in the event of a crisis. If your cameras are integrated with security solutions from Industrial and Commercial Security Systems, Inc., we can provide verification to the police, which can potentially change the priority of a police call.
Contact Us for 24/7 Monitoring and Support
At Industrial and Commercial Security Systems, Inc., your safety and security are our priority. We provide responsive support 24 hours a day, 7 days a week, 365 days a year. Contact us today to schedule a commercial security evaluation in Santa Fe.